After setting up the connection. Our PC-Wii is done! It's time to test it, and have some fun.
Testing Buttons and Accelerometer 
We can first start by testing the communication between the Wii-mote and our computer. The simplest application for a quick test is WiiRemote.
1. Here what it looks like after you download the program and run it.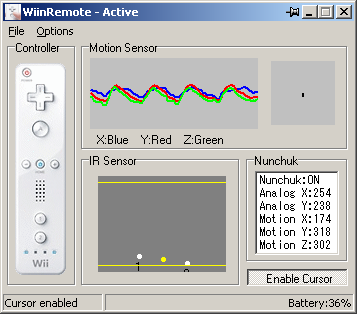 2. Enable cursor mode by selecting Options-Cursor-On from the menu. Now move your wii-mote and you should see your cursor will follow your movement (roll and tilt for up/down, left/right. Press A for left click and B for right click. When you press any buttons on the Wii-mote, you should see the corresponding button light up on the Wii-remote GUI. 
[youtube VcqkQ3YxTd4 ]
Testing Sensor Bar
After testing the bluetooth communications are working fine, it's time for the moment of truth, a Wii system would not be complete without a sensor bar. This test can also be done with a WiiRemote as well.
1. Fire WiiRemote.exe once again. Click on Options-Preferences, and you should see the following screen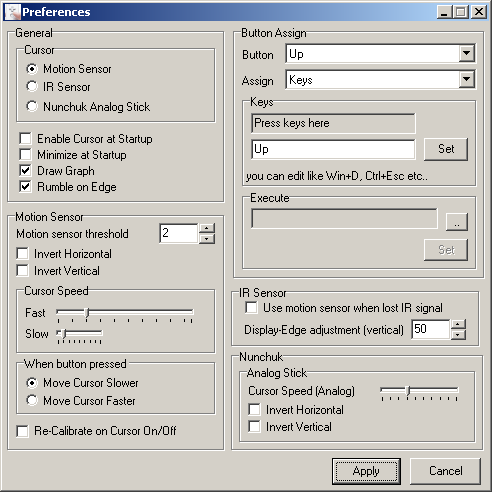 2. Select IR Sensor to switch to sensor bar mode, and then use "Options-Cursor On" again to enable cursor mode. With some luck, we should see the cursor move left and right through the exact position of the wii-mote in front of our sensor bar rather than the relative roll/tilt motion in the previous step.
3. If you succeeded in the previous step, then congratulations, you may move on the more exciting "Game Development" section to either download some sample games to play around with, or start creating your own Wii games! However, if you don't see the cursor move properly, go back and check your sensor bar with the testing procedure described in the "Sensor Bar" section – if the IR lights are on, you should see them through a webcam.
Have Some Fun
Through using the WiiRemote application that turns a Wii-mote into a mouse, you can already start having fun with the new PC-Wii system without any additional coding! Please checkout the "Game Development" section and "sample downloads" to check out the currently available test apps and games you can download and enjoy!
This is a video of me running a virtual robot simulator with the wii-mote.
[youtube buZzj8F-Ab0 driving virtual robot]
Here's a video I found on Youtube that someone's playing Halflife 2 using just accelerometer functions of the wii-mote.
[youtube.com asY_I8y6C0M playing halflife2 with wiimote]